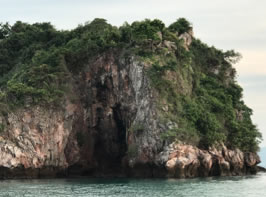 Birds Nest Soup
Off the Taling Ngam coastline on the southwest corner of Koh Samui, are the "five Islands" - only a few hundred metres from the Headland.
In Thai, these islands are known as "Koh Si Koh Ha", which means "four islands, five islands" –since one of these islands is obscured from most vantage points.
The five islands are home to protected birds "the swifts". The nests of these swift birds are the main ingredient of bird's nest soup - a 400 year old Chinese delicacy.
The nests of the swift birds are harvested for the 'birds' nest soup' with a bowl of soup costing between US$30 and US$10,000 per kg.
The only human inhabitants on the five islands are "Sea Gypsies", who live in small wooden homes on the cliffs (see photos below). The role of the Sea Gypsies is to protect the bird's nests from poachers.
The Headland villa manager is able to arrange a tour of the five islands on a longtail boat.