Koh Samui is well known for its perfect beaches however there many other fantastic attractions on the island the biggest problem is how to fit them all in during your visit. We have some useful tips and suggestions for trips sightseeing in Koh Samui.
Big Buddha
For many visitors this is one of the first sights they see when arriving in Koh Samui as it is very visible from planes coming into the airport.
Its main feature as the name suggests is a 12 metre high golden Buddah statue. This statue has become an iconic Koh Samui image. Built in 1972 the 'Big Buddha' has become one of the most popular sightseeing destinations in Koh Samui. This large Buddha statue is perched at the top of a long flight of stairs that are also decorated on each side with dragons. The large buddist wheel of life and dragon decorations just behind the main statue are more recent additions.
Another very good reason to visit is the view from the top which in itself is very impressive, giving you breathtaking views of the island and out to sea. The views across the bay towards Ko Som and Ko Pha Ngan also are spectacular.
Fishermans Village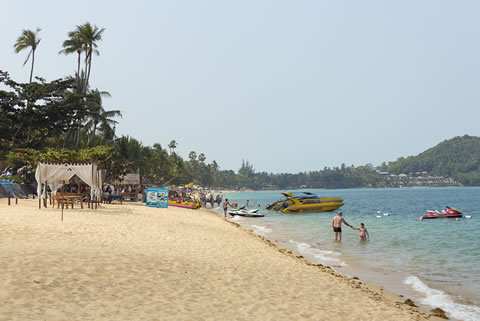 Bophut beach and fishing village is located on the northern coast of Koh Samui between the Big Buddha beach and Maenam beaches. It is twenty minutes away from the Headland villas in Taling Ngam.
"Fisherman's Village" is the main destination in Bophut. The village is on the east side of the beach while the new developments are to the west. There has been an effort here to keep out some of the more commercial elements of Thai night life, while preserving an environment for couples and young families.
Fisherman's village has several stylish restaurants and a shopping strip that retains some of the island's original Thai-Chinese atmosphere. Old Chinese shop-houses crowd the narrow street, where many are converted for use as restaurants, cafés and small shops.
Bophut beach and fishing village has a reputation for being one of the best places to eat on Samui. There are a good number of restaurants offering a wide choice of cuisine in addition to a wealth of Thai dishes. French, Italian, BBQ, Indian, and seafood outlets predominate.
On Friday there is a "Walking Market". The streets are lined with vendors and stalls selling a variety of foods and goods. There are also live music and performances which creates a fun atmosphere.
Chaweng Beach
When sightseeing in Koh Samui, Chaweng Beach on the Island's east coast is the longest and most popular beach so well worth a visit. It has a reputation as a pristine beach with an excellent nightlife infrastructure especially towards the northern end. It is usually divided into three sections: North Chaweng, Central Chaweng and Chaweng Noi (Little Chaweng) around a headland to the south.The beaches beauty and reputation attracts many young travelers and families alike.
Approximately 7 km long with powdery white sand. It is bordered by aquamarine coloured waters and a coral reef where waves break, leaving the inland waters of the bay quite tranquil. The water is clean with usual temperatures between 25-28 degrees C. A little way out from the beach are two small islands. You can reach the nearest one by walking through the shallow water or try snorkeling and kayaking at the second larger island which is further out.
The central part of the beach is a bit more crowded than the quieter north. Many vendors pass by, offering beverages, fruit, ice cream and local Thai food. A variety of local crafts and Thai souvenirs are also available. The beach itself is usually accessed through the hotels, as there are only a few beach roads. It is a relaxed place but it does become noticeably more busy with a greater number of tourists in the high season.
Parallel to the Chaweng beach is Chaweng itself, the biggest and probably one of the most hectic towns in Koh Samui. Gathered in the middle of this strip is Samui's greatest concentration of restaurants, bars, souvenir shops and fast food and convenience shops. The famous Green Mango strip is the main hub around which the town's bars cluster.It is packed with young crowds of party goers every night.
Na Tian Butterfly Garden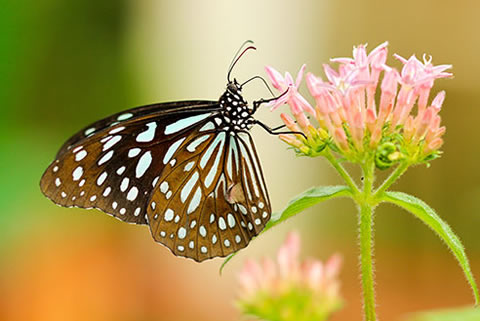 The Na Tian Butterfly Garden at Laem Set is in the southern part of Koh Samui. Thousands of multicoloured butterflies living in a natural garden. If you want to spend a little time away from the beach and see a little more of the island it is a great destination. It is a good place for a family visit.
The Butterfly Garden is a riot of colour with many vibrant and interesting flowers and fauna indigenous to Thailand and Koh Samui. There is a trail through the landscaped garden with water falls and stream that brings you in touch (literally) with the butterflies so be prepared for some close encounters. There are bound to be plenty of great photo opportunities so don't forget your camera.
Food for the insects is placed alongside the paths to bring you into close contact. They are fond of sweet things and will feed on bananas and other fruits. The nectar from Hibiscus flowers is also a favourite. The large garden is outside but covered with fine mesh which prevents the butterflies from escaping.
As you go around the garden look out for the observation platforms which offer some really stunning views of the coast. NB The garden is on a slope so do expect quite a few steps to reach the top section.
Beautiful waterfalls
When you are choosing your days out sightseeing in Koh Samui don't forget about some of the beautiful natural attractions. There are several beautiful waterfalls, Na Muang waterfall near Ban Thurian (which is situated 10 km south from Nathon) rates as the largest and most impressive. It has two separate falls, one with a 20m drop and the other with an approximate 80m drop and a good pool for swimming.
The first waterfall can be reached by by car. The waterfall is thought of as one of the most beautiful on Koh Samui. The drop here is about 18 metres. The second set of falls are even more impressive with a height of 80 metres. The lovely natural swimming pool is here.
The larger falls are not accessible by car and you will need to take a 30 minute walk. Make sure that you bring suitable shoes and as with any exploring trip in Koh Samui it is advisable to have a bottle of drinking water.
All of the waterfalls in Koh Samui will be at their most spectacular when there has been plenty of rain and there is increased amount of water in the rivers that feed the falls. You can find out more about the seasons and rainfall in Samui here.
If you don't want to drive and navigate to this more remote part of the island as part of your sightseeing on Koh Samui you can also take trips to these falls via organised tours. Nearby this location there is also elephant trekking which has path in and alongside the river. There are a number of souvenir shops and restaurant close to the waterfall.
You might also want to consider The Hin Lad waterfall and temple in the highlands of Koh Samui which allows you with a walk in the peaceful temple gardens as well as the hike and swim. You see more about the Hin Lad waterfall and temple here.