Nearby the Headland Villas There are a range of fitness and training facilities for guests that want to keep fit and active, in between indulging in the tranquility of the Headland estate.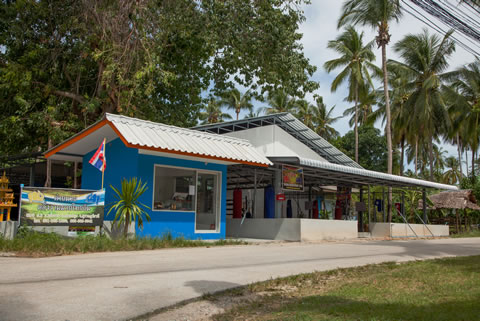 Muay Thai Training
Within an easy 5 minute walk from the Headland villas is the Taling Ngam Gym. The Gym is run by Khun Eat - one of Samui's most well known Muay Thai exponents. Khun Eat's gym has a comprehensive range of facilities for the serious Muay Thai trainer, and also for adults and kids who want to keep up their fitness levels while on holiday in Samui.
Group or individual lessons are available. The trainers offer a fun filled training experience for kids, with children always leaving with a smile on their face and wanting to come back for more.
The gym is very popular amongst guests at the Headland and Khun Eat's staff are very professional and friendly.
CrossFit
The popular fitness craze, "CrossFit" is also offered at Taling Ngam Gym as part of their new Fitness class which combines CrossFit with specific circuit training excercises.
Water Sports
Within 3 minutes walk from the Headland Villas there are a range of water sport activities including sea kayaking, paddle boards, and Hobie Cats for for those that choose to sail to the nearby 5 islands, or take a more leisurely journey parallel to the beach.
Yoga
The Headland has yoga and fitness instructors that can come to your villa for private instruction.
Exercising in the privacy of your Headland villa is a wonderful way to re-energize while on your Koh Samui holiday.
Gymnasium
The Koh Samui Intercontinental, in Baan Taling Ngam, is less than a minute stroll from the Headland.
The new fitness centre can be used by Headland guests at a discounted rate. The gymnasium overlooks a private beach front and the Gulf of Thailand. The fitness centre has modern equipment, a stretching zone, and an outside yoga area for exercising both body and soul.
Looking out over the breathtaking ocean views provides a welcoming distraction while you tackle your fitness goals.
Tennis
Headland guests are able to use the adjacent Intercontinental resort tennis courts at a discounted rate. Coaching and hitting partners are also available at request.
Bike Rides
The surrounding areas of the Headland have flat roads for cycling. Bikes can be hired from the Villa Manager, and also from the adjacent Intercontinental for children's bikes.
More activities can be viewed on our activities page